A hero imprisoned as a traitor has died.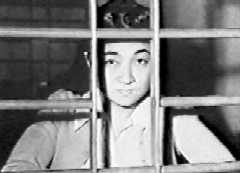 Born Ikuko Toguri the woman, who came to be called Tokyo Rose, died in Chicago on the 26th of September.
Toguri was the daughter of Japanese immigrants. She was born on the fourth of July in 1916 in Los Angeles and raised a Methodist. The name Tokyo Rose was given to any number of women who broadcast propaganda for the Japanese during World War II.
Toguri had sailed to Japan in July of 1941 to visit relatives. She used a Certficate of Identification instead of a passport to travel. The US State Department did this in lieu of a passport because they didn't have time to process the passport before her departure. They assured her it would get her to Japan and back to the United States. But when she tried to return it was rejected
In September of that year she applied for a passport so she could return. But bureaucratic delays slowed the process and no answer came. As she was waiting Japan attacked Pearl Harbor and a state of war existed.
While FDR was conducting mass arrests of Japanese Americans and putting them in concentration camps Toguri was declared an enemy alien by the Japanese. The Japanese government pressured her to renounce her US citizenship but she refused to do so. She requested that she be incarcerated with other Americans caught by the war in Japan. The Japanese refused because of her ethnic heritage.
Her pro-American views caused her problems in Japan as well. She found she lost her room at a boarding house after her room was searched by Japanese police. Again she requested to be imprisoned with other Americans and this was again refused. She eventually got a job to support herself at Radio Tokyo and while working here typed up a report on Japanese-Americans being placed in concetration camps. One report she had to read listed her parents names as being imprisoned at the Gila River Relocation Center in Arizona. She did not know that her mother died after she was arrested and that only her father was incarcerated for his ethnic background.
American POWs in Japan were forced to engage in propaganda broadcasts for the Japanese and they chose Toguri to host portions of the show. They would write scripts in ways to send messages contrary to what the Japanese actually wanted. But for this to work they need someone they could trust and
Toguri was their woman
. The show became popular with Americans stationed in the South Pacific. Instead of acting to demoralise them the show actually had the opposite effect, which was intended by the POWs forced to write it and in line with Toguri's own sentiments.
Though only paid a small sum for this work she used the funds to help feed American POWs. She married a Portugese citizen and again declined to surrender her American citizenship.
After the war journalists offered rewards to anyone who identified Tokyo Rose she was fingered by someone. She was arrested without a warrant and only released after a year in jail. US authorities said there was no evidence she had acted illegally or treasonously. The POWs who wrote the scripts she performed also said she had not acted against the United States
.
The Federal Bureau of Investigation conducted thorough investigations of Toguri
and also said there was no evidence of wrong doing on her part.
Held in jail in Japan by US authorities no charges were filed were against her. She was kept locked up and allowed to see her husband only for a few minutes per month. She was under constant surveillance. On one occassion 17 US Congressman had the pleasure of watching her as she bathed herself in her cell. When she was finally released from prison US military personnel gave her an honorary escort out of prison. She was also handed a bouquet of flowers.
All Toguri wanted to do was return to her beloved United States. She applied again for a passport. But crusading Left-wing journalist Walter Winchell conducted a smear campaign against her. She was arrested and forcibly separated from her husband. The smear campaign worked, as smear campaigns often do. She was repeatedly questioned without access to legal counsel.
The US spent $750,000 proscuting her. The most ever spent on a trial up until that time. Her father alone paid for her defense. Witnesses against her were paid by the day to testify. And the money being offered was a considerable sum in Japan at that time. It assured there was no shortage of witnesses. One Australian POW flew at his own expense to the US to testify on her behalf. Other prisoners who were forced to work at the radio station where Toguri was employed also said she was loyal American. She told the court how she intentionally used sentences with double meanings to have the opposite than intended effect.
She was convicted of one count of treason on the basis of very questionable testimony. The one "crime" she allegedly committed was mentioning the lose of American ships during the war. She was fined $10,000 and sentenced to ten years in prison. The judge who did this admitted he was biased against her. His instructions to the jury excluded her defense. The jury foreman said they were inclined to find her innocent but couldn't figure out how to do so given the instructions they were given by the judge.
During her time in prison she was considered a model prisoner.
Her own prison records
showed that once again she was held in nothing but high regard by those who worked with her. The only demerit she received was for helping another prisoner with a toothache without permission. She extracted the troublesome tooth when no dentist could be found. Each time she became eligible for parole the despicable Winchell launched another campaign her to keep her in prison. Parole would make him look bad.
The day she was released from prison she was handed a deportation notice but she fought it. She refused to leave the country and never saw her husband again. She feared that if she left she would never be allowed to return. And he was refused entry by the US government. They reluctantly divorced in 1980.
President Gerald Ford pardoned Toguri on his last day in office. Individuals who testified againt Toguri have admitted that they lied under oath under duress from the prosecutors.
By right Toguri deserved praise and awards not imprisonment. She stood loyally by the side of the United States throughout the war even after the US had arrested her parents for merely having been born in Japan. After her release from prison she worked diligently at her father's store in Chicago. She kept to herself afraid that the false accusations of the past would continue to cause her pain and suffering. But every year she threw a big party on the Fourth of July to celebrate her birth and the birth of the country she loved until the day she died.